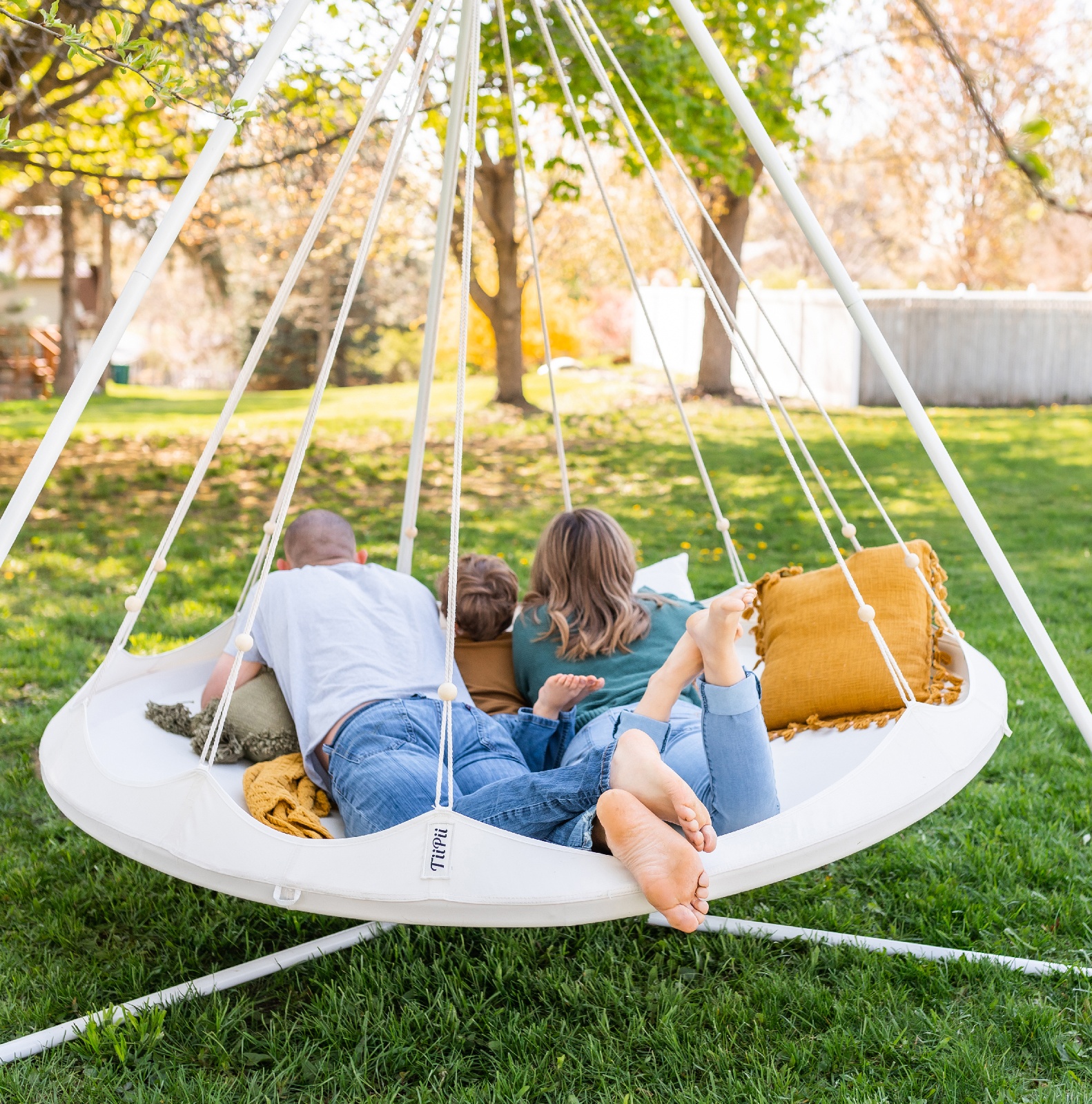 a Luxury TiiPii Daybed & Stand Set (RRP $1000)
Available on purchases in-store & online from 18/10/21 - 17/12/21.
Winners will be contacted on 21/12/21.
Competition is now closed. All winners will be contacted on 21st December 2021.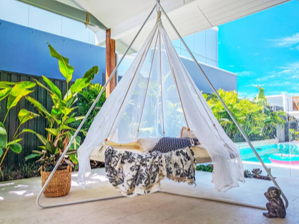 Designed with quality materials
Indoor and light outdoor use
The luxury day bed is made with quality, sustainable materials.
The luxury day bed and stand pack down into convenient canvas travel bags, allowing you to experience adventure anywhere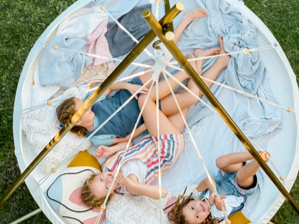 Room for everyone - the large Classic TiiPii Bed is the perfect size to entertain or relax in style, comfortably supporting 3-4 people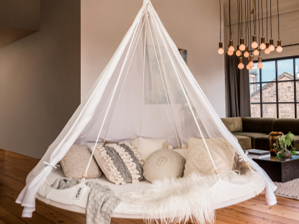 TiiPii daybeds can be enjoyed just about anywhere. Hang from a safe ceiling structure, beam or from the tripod stand.
The Classic TiiPii Bed (Large) is designed with high-quality soft poly-cotton canvas, macramé finishing touches, and a cosy attachable white sheer net. Perfectly paired with the Classic TiiPii Stand or can alternatively be suspended from a safe beam or branch. All elements compact down into two convenient transportable canvas storage bags.
Find out more about the product here.
www.irobot.com.au
www.irobot.co.nz © 2021 IXL Home. All Rights Reserved.
Terms and Conditions:
1. These terms and conditions apply to the iRobot TiiPii Consumer Giveaway Promotion promoted by IXL Home AU (ABN 25 123 411 898) and IXL Home NZ (NZBN 9429042118930) ("the Promoter").
By entering into this competition, each participant acknowledges and consents to the Promotor using their name, image, creative work, likeness, voice, quote or any other form of intellectual property submitted for any purpose, including for marketing and promotional purposes anywhere in the world and in any form of media. The Promotor will use this information in accordance with their privacy policy, the Privacy Act and any other applicable laws.
2. This competition is a game of skill. Chance plays no part in determining the winner. Each entry will be individually judged, based upon individual creative merit. All entries must be an independent creation by the entrant and free of any claims that they infringe any third-party rights. Entries must not have been published previously and/or have been used to win prizes in any other competitions.
The competition starts 12.00am on 18 October 2021 and closes 11.59pm on 17 December 2021 (AEST). Your entry must be received by us no later than the closing time.
3. Who can participate
Any Australian or New Zealand citizen or resident over the age of eighteen (18).
4. How to participate
(a) To participate you are required to purchase an eligible iRobot Roomba or Braava product within the promotional period, from an authorised retailer or direct from iRobot AU/NZ. Proof of purchase is required to claim your prize.
Eligible iRobot products are:
• Roomba 606
• Roomba 670
• Roomba 692
• Roomba i3
• Roomba i3+
• Roomba i7
• Roomba i7+
• Roomba s9+
• Braava jet 240
• Braava 380t
• Braava jet m6
(b) To enter the competition you are required to fill an entry form at www.promo.shopirobot.com.au including your first name, last name, contact phone number, email address, residential address, product purchased, proof of purchase details, and write a description (in 25 words or less) as instructed on where you would place your TiiPii daybed. Proof of purchase must be provided with entry, such as a clear image of invoice or receipt. All questions must be answered genuinely and the Promoter owns all right and interest in the answers.
(c) Only 1 entry per participant is permitted. The Promoter reserves the right to validate and check the authenticity of the entry, and to disqualify any participant for tampering with the entry process, or who submits an Entry that is not in accordance with the Terms and Conditions.
(d) Employees of the Promoter and their immediate families and agencies associated with this promotion are ineligible to enter.
5. Winner Selection
(a) The Promoter will select its favourite 100 Australia entries and its favourite 20 New Zealand entries the draw on the 20 December 2021.
(b) Winners will be notified by email on 21 December 2021. Proof of purchase must be supplied to The Promotor for winners to claim the prize. The Promoter will ask for the winner's contact details including name, contact telephone number, home postcode and delivery address.
(c) The Promoter's decisions are final and no correspondence will be entered into.
6. Prizes
(a) The Promotor will give away 120 x TiiPii Classic, Large, Natural White Daybed & Canopy (TIB1800NW) with White Stand (TIS18MEWE) (https://tiipiibed.com.au/products/classic-tiipii-hangingdaybed?variant=15416948686883), Total RRP $1048 AUD to the selected winners. 120 prizes will be allocated between Australia and New Zealand entries, with 100 winners in Australia and 20 in New Zealand.
(b) The prize comes with the same warranties that a customer would be entitled to had they purchased the prize and the date of purchase for the purposes of claiming under a warranty will be considered that date of delivery of the prize. More information regarding TiiPii product warranties may be found at https://tiipiibed.com.au/pages/warranty.
(c) This prize is not transferrable or exchangeable and cannot be taken as cash.
(d) If a prize is unavailable for collection by its winner for whatever reason, we may at our discretion provide the winner with a different prize of a similar value.
(e) We will deliver the prizes to winners at no charge to any address within Australia and New Zealand. The promoter (or its carrier) requires a signature upon delivery. The promoter is not responsible for any damage, lost, stolen or misdirected prize.
(f) Any tax payable as a result of a prize being awarded or received will be the responsibility of the winner.
(g) If the prize is unclaimed by a winner within three weeks that winner will no longer be entitled to claim the prize and the prize will be awarded to the next best entry at the discretion of the Promotor. The new winner will have three weeks to claim its prize. After such date has passed, there will be no further winner and the prize will remain unclaimed.
7. Tampering and other matters
(a) If for any reason this competition is not capable of running as planned for any reasons beyond our control that corrupts or affects the administration, security, fairness, integrity or proper conduct of this competition, we reserve the right to cancel, terminate, modify or suspend the competition.
(b) We do not accept any responsibility for any late, lost or misdirected entries.
8. Personal information and privacy
The information you are asked to provide to the Promotor is personal information and is protected by the Privacy Act 1988. The Promotor will not disclose this information to other parties other than in accordance with such Privacy Acts. All entries become the property of the Promoter.
9. Limitation of liability
The Promoter shall not be liable for any loss or damage whatsoever which is suffered (including, but not limited to, indirect or consequential loss) or for personal injury which is suffered or sustained, in connection with the competition, except for any liability which cannot be excluded by law.
10. The Promoter in Australia is IXL Home Pty Ltd, 1K Marine Parade, Abbottsford, VIC 3067. ABN 25 123 411 898. The Promoter in New Zealand is IXL Home Pty Ltd, L4 57 Fort Street, Auckland, NZ 1010. NZBN 9429042118930.
11. Enquiries can be forwarded to marketing@ixl.com.au and 1300 727 421 (AU) or 0800 727 421(NZ).
12. These terms and conditions are governed by the laws of Australia and New Zealand, as applicable.